Peace of mind is closer than ever!
Schedule your LOFT introductory referral call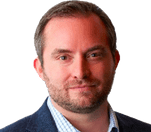 Before we had our new WordPress site fully set up in the LOFT system, it became infected with malware. Our LOFT team found and fixed it before we even knew it happened!
Thurman Given, CEO
Waste Disposal Systems
Somebody's looking out for you!
If you've been referred by one of LOFT's affiliates, you're in the right place. We're glad to see that you're connected to some great people who care about your peace of mind.
Use the form below to schedule your risk-free call! 
There are two easy steps:
choose a date and time that work for you and


let us know a little about yourself.